Born in Nashville in 1928 Bettie Page is possibly the ultimate cult Heroine, a pop culture icon, Queen of sleaze, Empress of Pin ups; all this and more.
Sweet natured but prone to bouts of depression Bettie's image is as iconic as many more popular female stars of any era. One could argue that her 'look' jet black hair, blue eyes and trademark Bangs are as classic as Louise Brooks, Marilyn Monroe or Elizabeth Taylor.
Classic Bettie: The Maid
Bettie appeared as a model for Burlesque shoots, S&M fantasy, Glamour, Record sleeves, Adverts and all manner of wonderful and bizarre scenarios that included Gorilla's, Jungle locale's and Sleazy joints.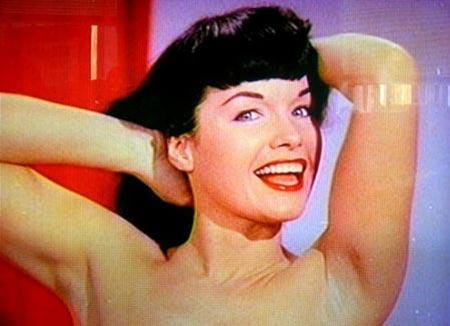 Bettie Dances
From Madonna, Russ Meyer, Uma Thurman, Marilyn Manson and Amy Whinehouse through to Sci Fi comic books,Rhianna, Tarantino and Edward Wood Bettie's great influence can be seen in pop culture.
Bettie by Weegee
She was 'rediscovered in the 1980's and this bought about a whole new fan base; a renaissance in Bettie and the attendant Burlesque scene.
The recent movie, The Notorious Bettie Page is an under rated movie about Bettie that is well worth a watch, Gretchen Moll plays better with splendid accuracy.
The Notorious Bettie Page
A Documentary about her is due for release this year,it's a real labour of love by it's director and we hear from Bettie herself,here's the trailer:
Bettie Page reveals all
Here's to Bettie. Always alluring yet always looked to be having fun with just that hint of innocence.