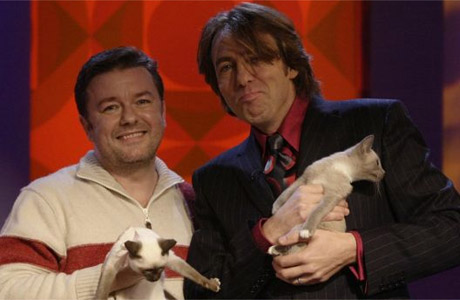 Gervais and Merchant's The Office was as good as TV comedy gets. This is not retrospective praise as I watched series one episode one and knew this was something special. Extras was always going to be a hard one for its creators Gervais & Merchant but by and large it worked, and worked well. The star cameos were unexpected and didn't come across as self indulgent; rather self depreciating in fact.
The fame game took firmly hold of Ricky Gervais and he became an ever present figure on our screens and in our newspapers. Popping up in cultural touchstones The Simpsons and Curb your Enthusiasm and being showbiz's bestest friend was all part of a basking in glory that was pretty much deserved.
I felt unbegrudging towards him because I had seen him work his way up the ladder and therefore expected a period of enjoying the fame and then Ricky would settle back into creative mode.
This doesn't appear to have happened. The point at which I felt he had allowed his ego to envelop his talent was one of his umpteenth appearances on The Jonathon Ross show.
Ross has deteriorated; chat show wise anyway, into a bloke who gets paid to have a chart with his mates in an exclusive uninclusive 'aren't we great?' manner. The main accomplice in this smug boy's club style of interviewing is Ricky. They simply have a chat about what they got up to recently and throw in a reference to one of Gervais' ubiquitous products. It's not interviewing its two fellahs having an enormous in-joke conversation.
Gervais is talented, as is Merchant, however the funniest thing that currently involves them is Sky's An Idiot Abroad and the real humour in that is provided by the naturally funny Karl Pilkington. There have been some okay cinema forays, mediocre stand up tours but little else to match the office.
Which brings me to the latest 'comedy' off the production line; Lifes too Short.
This show is not short enough. It's predictable and not funny. It is, in essence a mash up of The Office and Extras and is not awful or contentious or anything other than average. This is not good enough. Being average is a clear sign of accepting ones own hype and believing ones own publicity machine. Warwick Davis plays David Brent (but smaller) and a host of stars are booked in to appear throughout the series. What was once refreshing is now a de rigueur choice of the modern celebrity star "Darling I simply must appear on Ricky Gervais' new show"
I'm not one for knocking success and Gervais & Merchant deserve every ounce of acclaim that they received for the Office, but this latest show is lazy and turgid and they can both do much better. Maybe next time? I hope so.