As soulful as it is jazzy as mellow as it is funky with a soaring vocal in the chorus and a great sax break, Leroy Hutson's Lucky Fellow is an under rated classic from a bountiful era in club culture. It appealed to Jazz Funk aficionado, soul boys and the musically minded clubber. Leroy Hutson formerly of the impressions; where he came in to replace Curtis Mayfield, which gives an idea of his status, and The Mayfield singers, delivers a great vocal and listening to this song takes me right back to the time and place when the Club scene was at it's most vibrant in it's underground appeal.
Leroy Hutson-Lucky fellow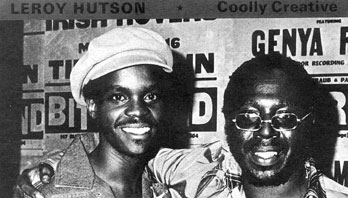 Hutson with Curtis Mayfield
Sampled perfectly on the brilliant Erykah Badu

album Baduism this song had a new lease of life and a much deserved rekindling of Hutson's flame. Hutson is one of those artists who just plays performs and keeps the flame burning; at 66 he is planning a new album.